Professional ethics can be a code of principles and well as represent how healthcare professionals handle their conduct with best standards and informed decisions. Professional ethics can be viewed as the best benefit for both the client and for those in the profession. When done well, proper conduct by healthcare professionals increases the public's trust in the profession and encourages clients to seek professional services.

Learning Objectives:

Review what is meant by professional ethics and responsibility for healthcare professionals
Discuss examples of applied moral codes to guide good professional ethics
Integrate your personal values with professional ethics

Target Audience: Allied Health Professionals, Dietitians, Educators/ Trainers, Nurses, General Public Health Staff, Case Manager
Tier(s) and Competency Domain(s): Tier One: Analytical/ Assessment Skills, Public Health Sciences Skills, Leadership and Systems Thinking Skills
Duration: 1.5 hrs
Continuing Education Information: 1.5 CECH for CHES
Format: Web-based Training, Self-Study
Created/ Updated: Sept 2016
Presenter: Linda Axtell-Thompson, DBe, MBA
Continuing Competency Credits
:
1.5
Do you want to improve your personal finances or help others improve theirs? This training will provide you with tools to create a personal budget and identify ways to improve your financial health. The training also provides information about health behavior theory as it relates to improving financial health and background information about financial health and stress. We also present ideas for incorporating budgeting trainings into public health programs.

Learning Objectives

1. Describe the negative effects of financial stress.
2. Apply health behavior theory to personal financial health.
3. Create a personal budget and identify ways to improve personal financial health.
4. List public health programs that may incorporate personal budgeting concepts as part of health promotion.
Continuing Education: 0.5 CECH for CHES, 0.5 CPEUs for RDNs (3/15/2023)
Duration: approx 30 min
Created/Updated: March 2020
Author: Allison Root, MS, RD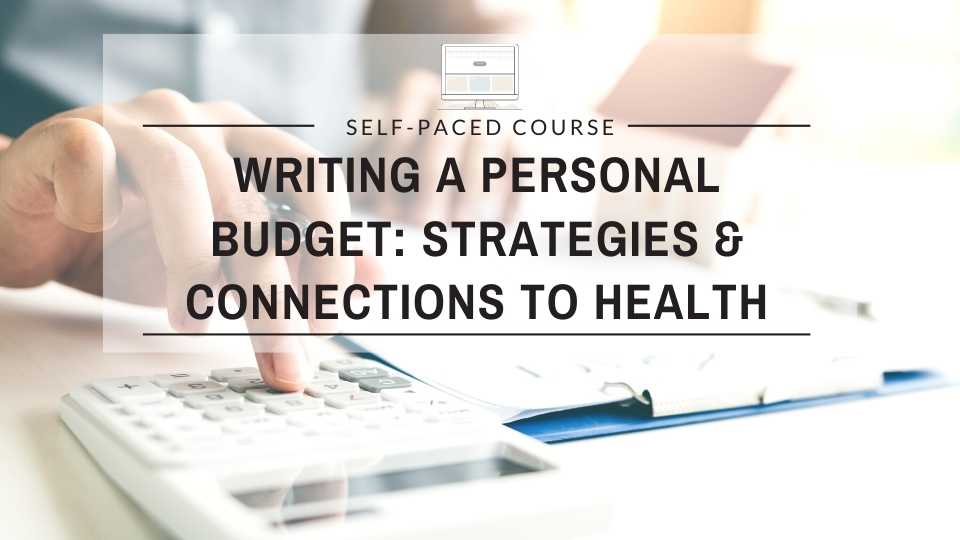 CHES Event ID#
:
SS99036_WPB2122020
Continuing Competency Credits
:
0.5
Performance Indicators
:
12.3.2, 12.3.3, 9.1.3, 9.1.5