Preventing Legionnaires' Disease: A Training on Legionella Water Management Programs (PreventLD Training)
What Are the Benefits of This Training?
The training
Outlines how to reduce risk for Legionella in facilities through water management programs.
Helps water management programs align with ASHRAE 188 on reducing risk for Legionella in building water systems (e.g., potable water, cooling towers, hot tubs, decorative water features).
Is free and available online, and continuing education units are available from the National Environmental Health Association (NEHA).
Helps build common language across the range of professionals involved in water management programs.
Includes case studies, templates, and other practical resources to reduce the risk for Legionella and protect those at increased risk of Legionnaires' disease: adults aged 50 years or older, current or former smokers, and those with a weakened immune system or chronic disease.
Who Is This Training For?
CDC and partners designed this training for the range of professionals involved in water management programs. This typically includes
Public health professionals, including infection preventionists.
Building managers, maintenance/engineering staff, and safety officers.
Equipment and water treatment suppliers as well as consultants.
This training addresses how to manage
Building water systems in hospitals, retirement homes and long-term care facilities, hotels, high-rise apartment complexes, and other buildings.
Other devices that may need a water management program even if the building does not, such as cooling towers, decorative fountains and water features, hot tubs, and misters.
How Long Does It Take?
Pilot testers took an average of a half hour to complete each module and an average of 3 hours to complete the training as a whole.
Users do not have to complete the training all at once. They can save their progress and come back later to complete a module.
Individuals completing courses within the curriculum are eligible to receive continuing education units (CEUs) through the National Environmental Health Association (NEHA). For questions regarding NEHA continuing education, please visit NEHA's CE information page or contact credentialing@neha.org.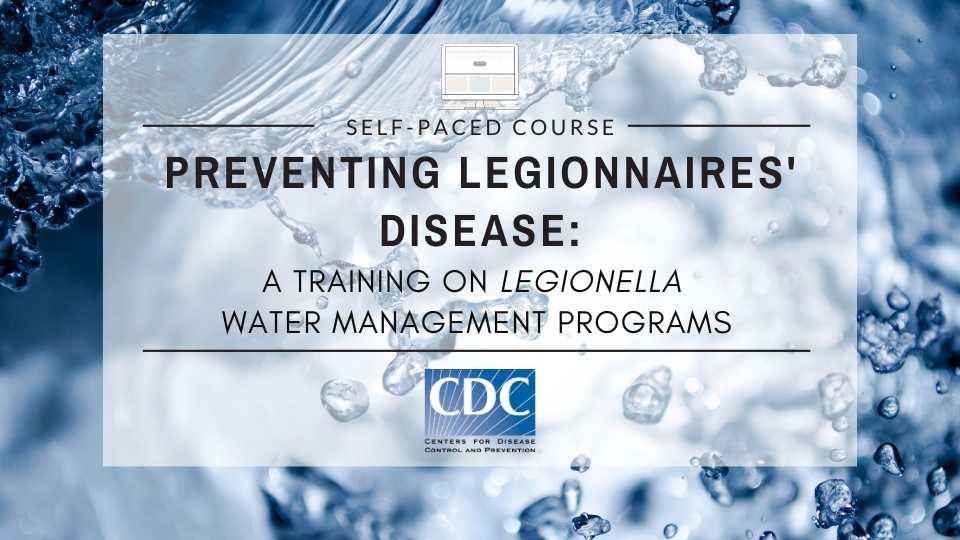 This distance-learning course is only available to NCEDSV's member programs in Nevada. For information about access to the course, please contact Lindsay Yates at adminlv@ncedsv.org or (775) 737-3071.